The finest article of the month for March goes to:
Y. Arfat, P. Kumam, M. A. A. Khan and P. Sa Ngiamsunthorn, An accelerated visco-cesaro means tseng type splitting method for fixed point and monotone inclusion problems, Carpathian J. Math. Volume 38 (2022), No. 2, Pages 281 – 297,
DOI: https://doi.org/10.37193/CJM.2022.02.02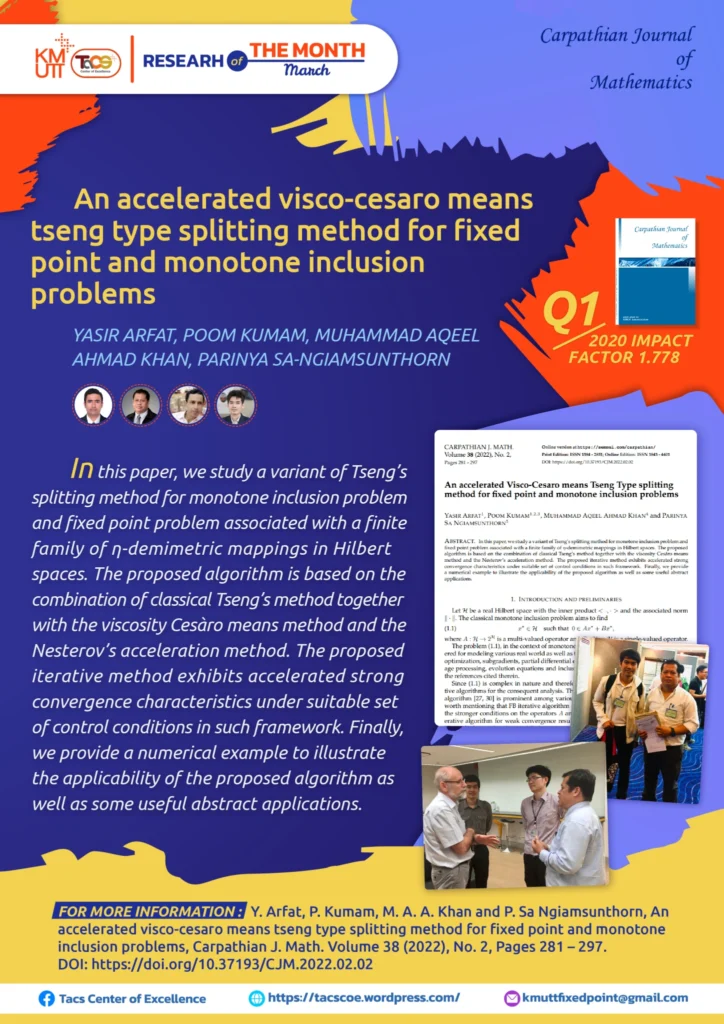 A. Dawar, A. Saeed, P. Kumam, Magneto-hydrothermal analysis of copper and copper oxide nanoparticles between two parallel plates with Brownian motion and thermophoresis effects, International Communications in Heat and Mass Transfer, Volume 133, 2022, 105982,
DOI: https://doi.org/10.1016/j.icheatmasstransfer.2022.105982
M. Bilal, H. Ayed, A. Saeed, A. Brahmia, T. Gul & P. Kumam (2022), The parametric computation of nonlinear convection magnetohydrodynamic nanofluid flow with internal heating across a fixed and spinning disk, Waves in Random and Complex Media.